Details
Details

22 INCH RED SPORT-110 BLACK/MACHINE RIMS & TIRES!
THIS LISTING INCLUDES (4) NEW WHEELS & (4) NEW TIRES.
(SIZE:22X9.0 BOLT PATTERN:5X115 OFFSET:+13 CENTER BORE 74.2)
YOUR CHOICE OF 235/30R22 245/30R22 255/30R22 OR 265/35R22 ALL SEASON HIGH PERFORMANCE TIRES
THESE WILL FIT THE FOLLOWING VEHICLES:
CHRYSLER 300C, SRT8,
DODGE CHARGER,DAYTONA R/T, SRT MAGNUM, CHALLENGER,
FORD EXPLORER
AND MANY MORE CAR'S SUV'S & TRUCKS!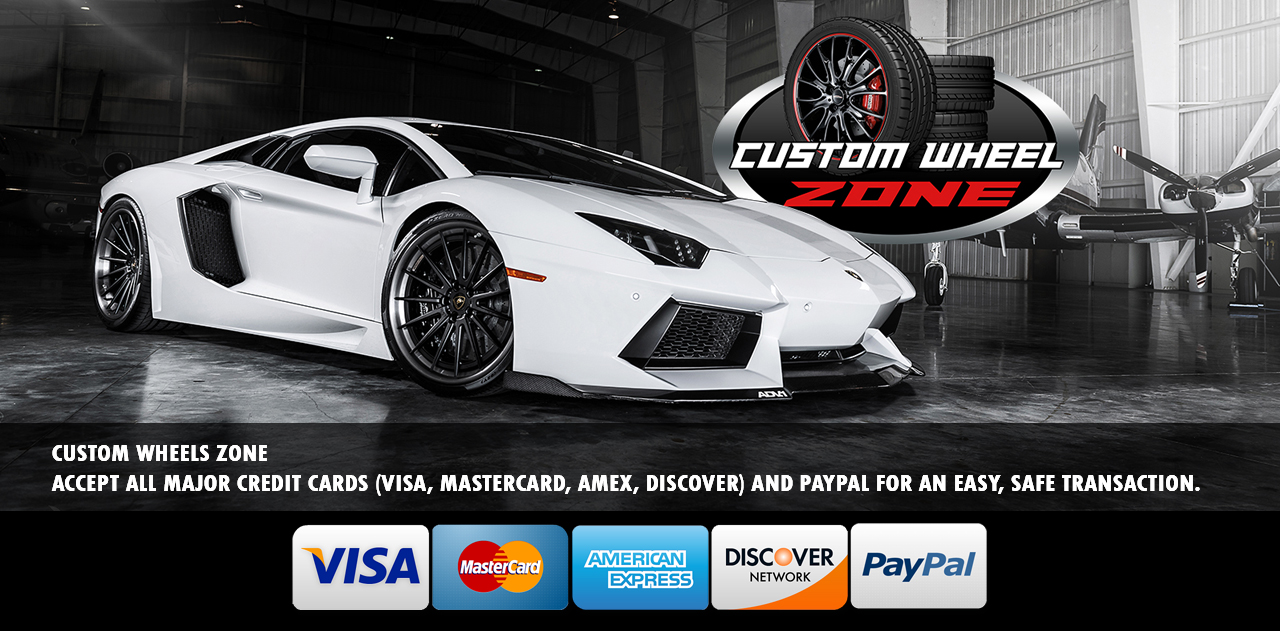 FREE SHIPPING WITHIN THE LOWER 48 STATES.

Items will ship within 1-3 business days of cleared payment and tracking info. will be provided.

No combined shipping. No exceptions.

Insurance is included.

Note to international buyers. We are not responsible for any customs, duties or fees.

Please allow 1 business days for your order to be processed.


Orders placed on Saturday and Sunday will begin processing the following Monday.


Orders placed on Federal Holidays, regardless of day or time, will begin processing on the following business day.

All orders are shipped via USPS, FedEx, and USPS
USPS, FedEx, and USPS Shipping Methods and Estimated Transit Times:
(Please allow 1-3 business days for your order to be processed)
Ground Shipping: (1-6 business days)
P.O. Box/APO FPO Addresses:

Unfortunately we don't deliver to a P.O. Box, APO or FPO address but they may be used as a billing address if need be.

Please note:

Custom Wheel Zone does not guarantee specific delivery times. Shipping times are estimated and may vary depending on order processing time and the distance of the shipping address from our distribution center in Ontario, California.

Standard Shipping Transit Time

Business days in transit from the Custom Wheel Zone Warehouse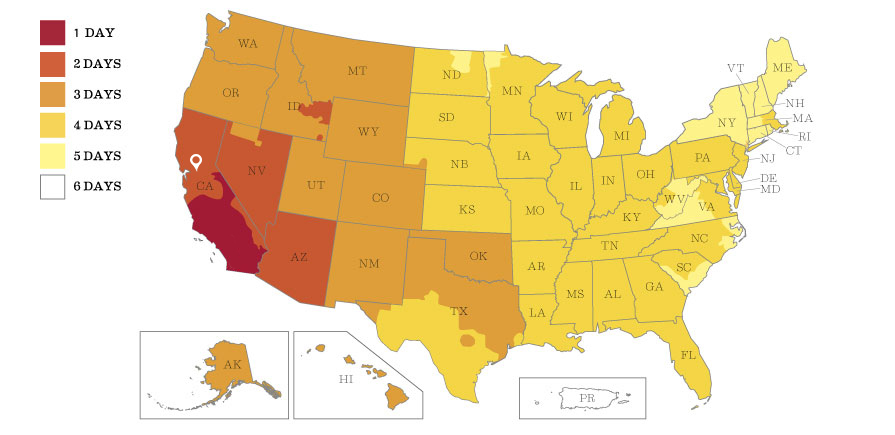 This map is an estimate of transit times. Please allow 1 business days for your order to process.

Please TEST FIT wheels on the vehicle before mounting tires.
We accept returns within 14 days of you receiving your items. Return shipping is at buyer's cost. We are not responsible for any shipping, installation, or incidental fees. Items that have been installed, altered, used, damaged are non-refundable.

Return Instructions: Contact us prior to shipping the item in order to obtain an RMA number. Any returned orders shipped to us without an RMA number will be denied. Please do not discard any of the included items or packaging material because it will be needed for the return/refund process. The return process will be different depending on the item that was purchased, so detailed instructions will be emailed to you after you contact us for the RMA number. If the merchandise is not properly packaged by customers, it may get damaged during shipping. We do not accept a return of product that is damaged due to negligence of the customer.

Restocking Fee: There will be a 20% restocking fee on returns of brand new items. If your item(s) come back damaged for any reason, a damage fee of at least 50% will be charged. This fee will be at our discretion depending on the severity of the damage on the item(s).

Fitment Notes: There are certain things such as aftermarket equipment, large brake systems, lifted, lowered suspensions etc. that might affect fitment on your vehicle.

For this reason we cannot guarantee fitment. Minor modifications such as fender rolling, spacers might be required and are very common when installing wheels.

DISCLAIMER
Wheels carried by Custom Wheel Zone are not affiliated by nor endorsed by Bayerische Moteren Werke AG, BBS of America, BMW of North America, Audi AG, Diamler AG or (Mercedes Benz), Porsche Motors, Tata motors or VW AG. The terms "BMW" "Mercedes" "Audi" "Porsche" "Range Rover" Etc. are used for fitment and descriptive purposes only. All Trademarks Herein belong to their respective owners.

Custom Wheel Zone States that our use of BMW, Bavarian Motors trademarked terms in our product dercription constitute fair use and nominative use and is in no way to offer confusion that Custom Wheel Zone's products and BMW, Bavarian Motor Works products are releated.

Reviews
Tags
Custom Tab 1
Custom CMS block displayed as a tab. You can use it to display info about returns and refunds, latest promotions etc. You can put your own content here: text, HTML, images - whatever you like. There are many similar blocks accross the store. All CMS blocks are editable from the admin panel.
Magento Community Edition is the most powerful open source e-commerce software and can be downloaded 100% for free. Developers can modify the core code, add custom features and functionality by installing extensions from Magento Connect marketplace.
Manage the fully dynamic catalog with the intutive admistrative interface. The flexible catalog system includes various options for the display of items. Magento is also integrated with a variety of major payment gateways out of the box.
Magento is a fully global platform, allowing for the expansion of business or simply offering multiple versions of your site to meet the needs of your customers. Translated into over 60 languages, supporting multiple currencies, payment methods and taxes, Magento allows for internationalization of your online stores.
Custom CMS block displayed when you want to replace up-sell products with custom content. You can display here some text, images or any other content.